MAYA-GAIA INTRODUCTION & SITEMAP Page Update 08 24 07
Note: My Anthropic Trilogy web-book, evolving since 1997, is a chronicle of my passing all considered opinion through the lens of my Nirvikalpa Samadhi with both an open-mind and healthy skepticism.
My Memorials to All Victims of the 9/11 Islamist Terrorist Atrocity - Never Forget!
The Most Effective Way to Never Forget the 9/11 Atrocities

tunnel2towers.org The top organization for the spirit of "9/11 - Never Forget!" - providing tangible uplift to first responders and military veterans and their families who suffer disabilities or death in the still, ongoing US response to 9/11 attack by Islamist Terrorists.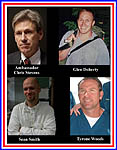 Update 10 18 2012: The Benghazi Terrorist Atrocity on 9 11 2012
In memory of U.S. ambassador, Chris Stevens - Sean Smith, an Air Force veteran who worked as an information management specialist for the State Department - Glen A. Doherty, a former Navy SEAL who worked for a private security firm and was protecting the consulate in Benghazi - Tyrone S. Woods, a former Navy SEAL who had served protective duty in various U.S. posts.
Analysis of the Benghazi Terrorist Attack An ongoing overview of events before, during and after the Benghazi debacle.
End Update
The Terrorist Atrocities on 9 11 2001
background song Have You Forgotten? by Darryl Worley or listen online
Update 05 02 2011: bin Laden Killed Osama bin Laden, the face of terror, was killed in Pakistan on May 2, 2011, shortly after 1 a.m. local time by a United States special forces military unit. Biography End Update
9/11 Memorial The 9/11 Memorial will be dedicated on September 11, 2011 the 10th anniversary of the 9/11 attacks in a ceremony for victims families. It will open to the public on September 12, 2011, and will welcome visitors who have reserved advance passes. The memorial is located at the site of the former World Trade Center complex in lower Manhattan, and occupies approximately half of the 16-acre site. The 9/11 Memorial features two enormous waterfalls and reflecting pools, each about an acre in size, set within the footprints of the twin towers.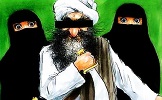 The horrific events of 9/11 can be forgotten at our nation's peril. These posters were created both as memorial to the innocents whose lives were lost and a constant reminder of the ongoing responsibility the world community has to eliminate hateful Islamist terrorist jihadi ideology from the face of the planet.
Atheism Politics Obama, Independence Day and Militant Atheism - My anxiety arising from reflecting on the inscription on our city's veterans memorial and Obama's canceling a 42-year tradition of an Air Force flyover of the God and Country Independence Day celebration in Idaho. An examination of the threat militant atheism and secular humanist fundamentalism pose to our republic under the expedient "faith" of the Obama administration- with further reading on atheism, deism, pantheism, panentheism, etc.
Stay informed!- Religion of Peace Islam will be a peaceful religion when Muslims stop preaching hate, stop killing in the name of Allah, and stop remaining indifferent to the violence. Until this happens, we will faithfully document each of the reasons why this is anything but a "Religion of Peace."
Islamic imperialism: a history by Efraim Karsh Yale University Press, 2007. From the first Arab-Islamic Empire of the mid-seventh century to the Ottomans, the last great Muslim empire, the story of the Middle East has been the story of the rise and fall of universal empires and, no less important, of imperialist dreams. Rejecting the conventional Western interpretation of Middle Eastern history as an offshoot of global power politics, Karsh contends that the region s experience is the culmination of long-existing indigenous trends, passions, and patterns of behavior, and that foremost among these is Islam s millenarian imperial tradition.
Radarsite in memory of Roger W. Gardner (1936 - December 17, 2009) - Radarsite is a conservative pro-American, pro-Western, pro-Israel, pro-military website blog. Radarsite was developed as an attempt to counter the self-loathing, self-destructive leftist anti-Americanism rampant in today's Western culture. (mg: keeps updated on many of the global political issues unfolding since Obama became president elect from a perspective of those sincerely fearful that America is losing its sense of patriotism and instinct for survival. (In Memorium - Roger W. Gardner)
Counter Jihad Report This blog is in memory of my cousin, Ken Haas, killed in the 1983 Hezbollah truck bombing of the U.S. Embassy in Beirut. It is mainly a news aggregating site with current topics relating to global Islamist terrorist activity but also includes an extensive library of resources for studying Islam and networking with other Counter Jihad activists.
The Center for Security Policy is a non-profit, non-partisan national security organization that specializes in identifying policies, actions, and resource needs that are vital to American security and then ensures that such issues are the subject of both focused, principled examination and effective action by recognized policy experts, appropriate officials, opinion leaders, and the general public.
Pakistan Spectator For updates on the center of gravity for the war on terror: We render views, news and opinions on Pakistani Politics in specific and world politics in general with respect to Pakistan and publish full interviews with contributors providing substantive insight and diverse perspectives.
The Sufi Question: Pakistan's Sufis Preach Faith and Ecstasy By Nicholas Schmidle - Smithsonian Magazine Dec., 2008 Can the joyous Muslim movement counter the forces of radical extremism? The believers in Islamic mysticism embrace a personal approach to their faith in stark contrast to the authoritative social and political militancy of jihadhist movements.
Rocket Attacks on Israel - documents the ordeal residents of Israel have endured over the past years of being the target of thousands of kassam rockets fired by terrorists in Gaza.
Pakistan's Sufis Preach Faith and Ecstasy - By Nicholas Schmidle Photographs by Aaron Huey - Smithsonian magazine, December 2008. An experiential, first-hand report on the status of the spiritual tradition. Believers in Islamic mysticism embrace a personal approach to their faith in stark contrast to the social and political authoratative militancy of the jihadist movement.
The Afganistan/Pakistan dilemma caused by Islamist militancy against family planning
Return of the Population Growth Factor Science Magazine: Between 2005 and 2050, the world population is projected to grow by 2.6 Billion- a number roughly equal to the total global population in 1950 (2.5 billion) Decisions made now can influence the growth rate. If the rates are not altered, hundreds of millions of families will suffer from proverty, hunger, inadequate education, and lack of employment opportunities, [not to mention its effect on breeding terrorism] all of which might otherwise have been avoided. The loss of attention to population has created formidable problems for the future. Some countries are undergoing explosive and possibly unsustainable population growth: Niger with 15 million today could hit 80 million in 2050, and Afghanistan could grow from 30 million to 82 million. In 1950, Sri Lanka had the same population as Afganistan, but it implemented a realistic set of fertility regulation choices, and as a result, it will have one-quarter the population of Afghanistan a century later. In 1970, there were 5 million more people in Bangladesh than Pakistan, but Bangladesh focused on making family planning available in culturally acceptable way, while Pakistan did not. As a result by 2050 Pakistan will have 62 million more people than Bangladesh. (United Nations, Economic and Social Affairs, World Population Prospects: the 2004 Revision Highlights (UN, Ny 2005) Table VII.2. p. 34.
Wounded Warrior Project Focused on helping our service men and women recover from their wounds sustained in the wars in Iraq, Afghanistan and around the world.
Defense Link - DefenseLINK is the official web site for the Department of Defense and the starting point for finding U.S. military information online.